I'm not always a backpacker living in a dorm
My first, and let's be honest, probably last, fancy schmancy night at the Golden Globes.
For years I've been working as a journalist and written numerous of articles about the different award shows like the Oscar, the Golden Globe, the Grammy and the Emmy that take place in Los Angeles. Even though I've lived in Hollywood for almost seven years I've never been to any of the glamorous events – until this Sunday!!
I was so lucky that my fellow Norwegian journalist friend, Kjersti Flaa (@kjersti_flaa), invited me to go with her to the show, so finally I was going to experience the glitz and glamour up close.
The security was insane. Several blocks around the Beverly Hilton Hotel, where Golden Globe is being held, was closed off. And when we arrived in our Uber it was super hard to get through. The area was packed with armed police and trained dogs, and our Uber needed a special badge to be approved into the closed area before three officers checked it inside out - including with a mirror searching under the car for explosives. This procedure happened to every single car that was going to the event – luckily the officers didn't take away my gun since it's legal to carry one in the US. :D
The red carpet started early afternoon and me, Kjersti and two other friends, Sara and Kristen, walked side by side with stars like Meryl Streep, Michelle Williams and Susan Sarandon. The photographers flash went off in every direction, and fans, who were placed in designated areas, screamed and waved at us. Well, it felt like it was to us anyway. I signed a couple of selfies and handed them out to some curious souls, and ran off before they got the chance to ask who the hell I was.
The red carpet lasts for a couple of hours and a lot of the celebrities are of course fashionable late. In the meantime, we hung out watching the stars arriving in their beautiful and freaking expensive designer dresses, while we were served small bottles of Moët & Chandon – who's been Golden Globe's official champagne sponsor for the last 27 years. Cheers to that!!
Around 4 pm we headed inside the hotel where the 1300 invited guests where spread around 112 tables. We got served a beautiful presented and tasty three course meal prepared by the Beverly Hilton's executive chef Alberico Nunziata and magnum bottles with Moët. Cheers to that too!!
It was actually a lot of toasting in champagne around our table, and stars like Mariah Carey, Penelope Cruz, Jude Law and Kate Hudson all threw long glances in our direction - almost like they were begging us to invite them over. Dream on sweethearts, we don't even know you!!
All pictures in the carousel are taken by Kjersti Flaa: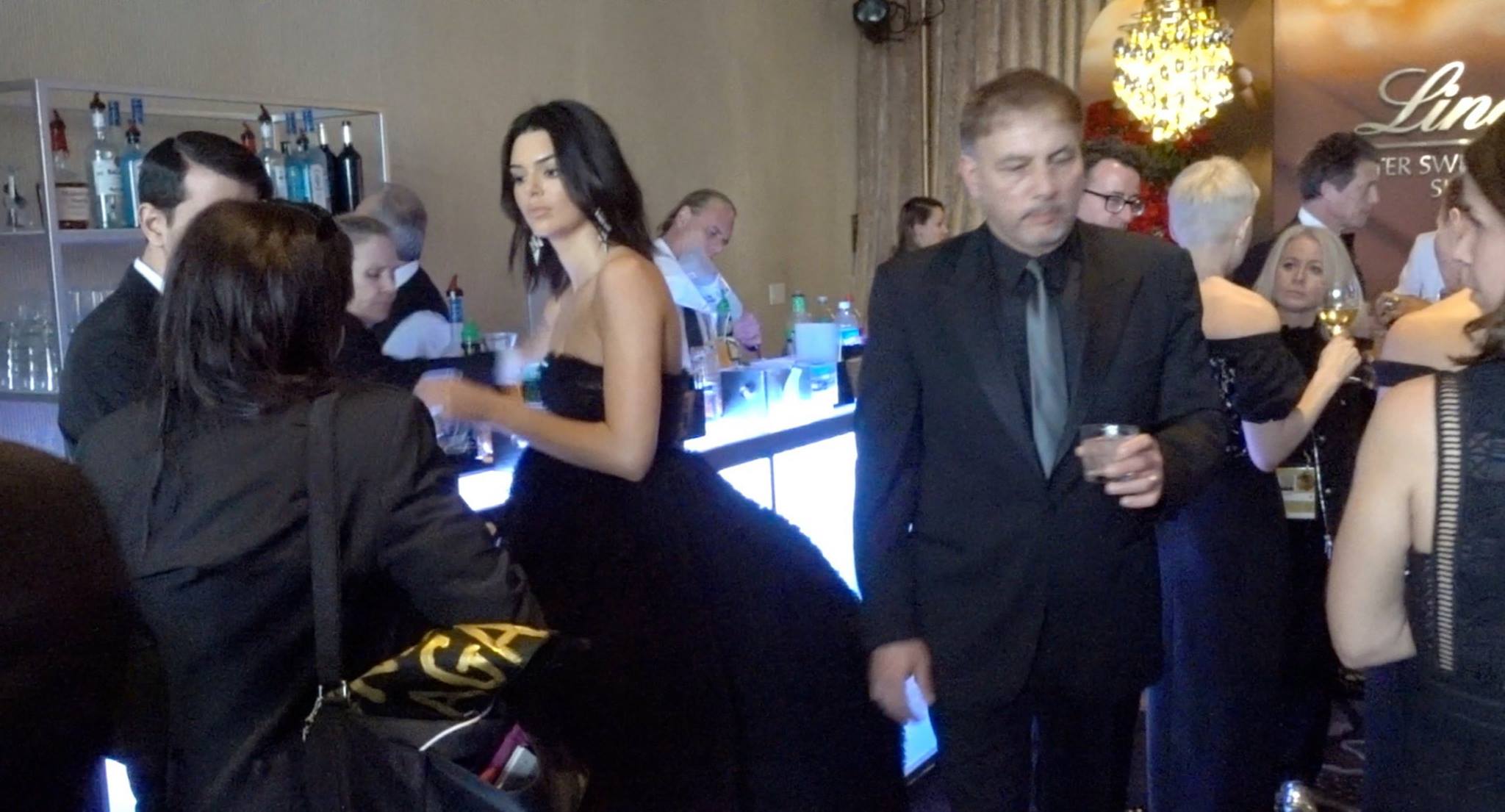 Funny man, Seth Meyers, was the evenings host and during the three hour long award show we switched between actually watching what happened on stage and mingling with celebrities like Kendall Jenner, Justin Timberlake, Hugh Grant, Halle Berry, and many more in the bar and smoking area.
I also spent a lot of time in the restroom. Not because I felt bad or something, but it was makeup artists and hairdressers working there and they gave all guests free touch ups. We could also help ourselves with free makeup. Life is so unfair!!
The first person I saw when I arrived to the restroom was Jessica Biel. She was laying down on a sofa trying to fix her shoes. She looked flawless in a strapless black Dior Haute Couture ball gown with her hair in a slicked back low ponytail. She was so beautiful I wanted to cry. Instead I downed two glasses of Moët while toasting with Oprah and Kate Hudson. Kind of!
Kjersti & I getting touch ups in the restroom
I was very disappointed that no one had a nip slip or fell down the stage though. The only really juicy thing I saw happening was Jennifer Aniston bitch slapping Angelina Jolie. I almost didn't believe my own eyes as the security guards had to break them apart from each other. Ok, that was a lie. Sorry!
After all the winners had been announced, the after parties started. At Beverly Hilton it was four and we were so lucky to have access to all of them.
We started out at HBO's bash, conveniently located outside of the ballroom where the Golden Globes are held. Here we grabbed a few plates of food together with "Game of Thrones"-stars Emilia Clarke, Gwendoline Christie and Nikolaj Coster-Waldau.
Nicole Kidman, who was one of the evening's big winners, could barely get to a table due to an onslaught of selfie-seekers toting their iPhones.
InStyle magazine and Warner Bros party was a great second stop. They had a L'Oreal flats machine where they gave away free rollable flat shoes for all the ladies who were wiped after wearing way too high heels all day. Cheers to that!!
We had a few drinks while dancing (and why stop namedropping while I'm at it) amongst Mariah Carey, Salma Hayek, Reese Witherspoon, Michelle Williams, Tonya Harding and Golden Globe-winner, Margot Robbie, who plays the retired figure-skater in "I am Tonya".
More guests were actually dancing at this bash than any other, maybe because of the change of shoes or because they were high on sugar after indulging the gelato and doughnuts bar.
See video from the day/night here:
At Fox's party at the Beverly Hilton's roof top, giant chandeliers twinkled over our heads while dancing and TV screens replayed scenes from the Globes telecast. They served gourmet pizza, had a popular espresso bar and an even more popular photo booth that all the partygoers lined up to all night until it broke down.
Oh, and Chris Hemsworth asked for my number. I had to say no as I'm super busy the next few weeks. If it's meant to be we'll meet again.
We also made it to Amazon's penthouse party where we enjoyed the view over LAs skyline while the british DJ-siblings, Samantha and Mark Ronson, successfully kept the dance floor full into early morning.
Not used to walking in high heels for 12 hours straight, so I changed and put on my sneakers at the end. Everyone loved my style!! I'm a trailblazer.
Before we called it a night we had to pick up our gift bags; A Kate Spade "New York On Purpose" Studded Leather bag filled with makeup and skin care products. Value $600!! WTF?! I felt like the most spoilt kid ever.
And yes, the night was definitely one for the books!