My friends are better than yours
What do you say when one of your dearest friends call you and ask if you want to go to Mexico for a week – all expenses paid? HELL FUCKING YES!!!
So we did! Four of us.
We packed our bags, got on the plane and off we went to San Jose del Cabo. Wiiiiiii!! I'm so lucky I can't even find the right words to describe it.
San Jose del Cabo is about half an hour with bus from the more known city Cabo San Lucas – the two cities are commonly known as Los Cabos. While Cabo is a lot about partying and tourist attractions, San Jose is kind of a resort town with several luxury hotels lined up by the beach. But San Jose also have a very charming old town with beautiful buildings, narrow streets and a few awesome restaurants and bars.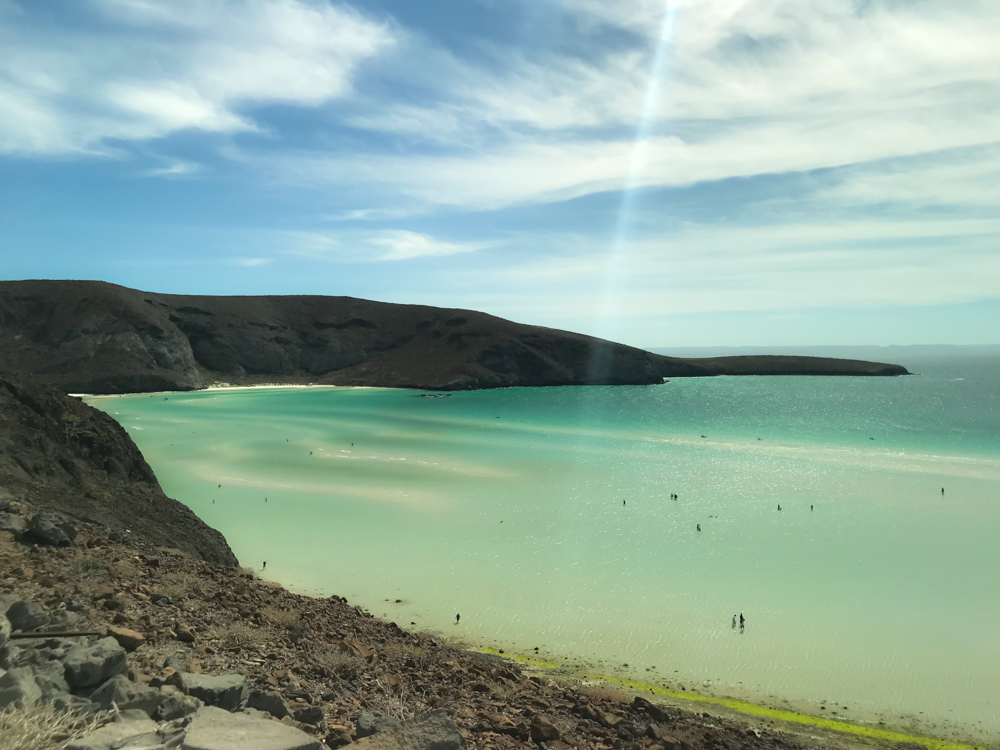 Usually when I travel I stay at hostels and backpackers and live a pretty simple life to get the most out of my money and to be able to travel for a longer period. But I definitely don't say no to a bit of luxury once in a while. Haha!
My friends, Daniel, Anne Lena, Hanne and I, did our best to explore every day in sunny Mexico. We tried out several different beaches like the main beach in San Jose, playa Santa Maria (great for snorkeling and my favorite), playa el Chileno and playa del Amor – also called Lovers and divorce beach.
We went on a boat trip to see the distinctive rock formation Arch of Cabo San Lucas. This is the most southern end of Mexico's Baja California Peninsula and where the Pacific Ocean becomes the Gulf of California. Here we saw a bunch of cute sea lions chilling in the sun.
We also tried out a bunch of great restaurants and cafes in San Jose del Cabo.
Cynthia Fresh has delicious organic lunch salads and very big portions.
At La Lupita, in the old town, we ended up eating two nights. They have live music, a nice and cozy ambience, good drinks and great food. Here we got to know some locals that made us try grasshopper tacos and different shots of mescal.
Daniel didn't want to try the grasshoppers, but we made him do it anyway by hiding them under the guacamole. Mohaha!
Now grasshoppers are his favorite!!
Our new friends also invited us to the amazing restaurant Acre where they all worked. This place is just magical. And the food is out of another world! We were so lucky to get to try a lot of different dishes because of our new friends. The taste sensations just exploded in our mouths. And we had such a good time there that we were the last people leaving the restaurant.
Acre is also a great place for weddings and other special events.
I got a bit sick during my stay. Nothing to brag about, but I'll do it anyway. Lost my voice (some people might have been happy about that) and got high on coughing medicine. That is not even a lie! My cough was so bad that I thought my lung would jump out of my throat every time I coughed, and a sweet Mexican pharmacist told me she had something that would help. What I didn't realize was how strong it was (the directions was written in Spanish) and I was so eager to get well that I more than doubled the dose and finished the whole bottle in two days. I ended up getting very delusional and having so many crazy thoughts that I started to think I was turning mad!
After a couple of days of feeling totally disconnected to my body, Daniel understood something was wrong and helped me gain my sanity again. Bless his soul! Travel tip: Don't start using medication abroad before you have translated the directions. Djezzus!! Haha!
I missed a road trip to the beautiful beach Balandra, just outside La Paz, because I needed to stay in bed to try and get better. But I stole this pic from my friends - and the place just looks unreal. A must if you go to Los Cabos. Read more about it on Hannes blog Bohopassport.
They also visited Todos Santos a beautiful and charming little town that attracts travelers with its colonial architecture, boutique hotels, art galleries, surf breaks, and coastal cuisine.
We also got the chance to explore a tivoli and night market while we were in San Jose del Cabo. The place was filled with every single local in the whole town. It's not even a joke. We went into town, but it was totally empty and when we got to the Fair it was like watching an anthill. It was so much fun – especially for me that was high on coughing medicine.
The day before we left we surprised Daniel with breakfast in bed and a picnic at the beach. He's birthday was coming up shortly after we got back to Los Angeles and we wanted him to have a special day with wine and food while we watched the sunset. And a picnic is always a good idea wherever you are. No need to wait for a special occasion to spend a day at the beach with good friends.
I ended up stealing Daniel's balloons and while he was crying, karma got me and I stumbled in my long toes and my poor body was spread all over the beach. See photos below for evidence!
Other fun things to do in Los Cabos:
Sailing trips in the sunset
Horseback riding on the beach
Canopy in the forest
Surfing
4x4 ATV Cross adventure in varied lanscapes
Reef snorkeling and diving
Fishing
Whale watching
Tequila and Mezcal testing
Admire artwork in the Gallery District
Golfing
It's only 2,5 hours with plane from Los Angeles and you can get tickets to under $ 200 dollars if you book early. What are you waiting for?