Happy birthday Norway
May 17th is a day Norwegians love more than I love prosecco. And that's basically not possible!! Luckily, May 17th is the perfect day to drink bubbles. Lots of them! Because we are celebrating! Celebrating that the Constitution of Norway was signed in Eidsvoll, May 17, 1814, declaring Norway as an independent nation. We were still under the Swedish rule at that time though, but who cares - that's sooo long ago!
I'll write a little bit about how we celebrate in Norway, and if you're more interested to read about how the Norwegians celebrate 17 mai i Los Angels, just scroll down a bit further.
May 17th celebration in Norway
Our national day is a big party for everyone. Especially for the kids. Throughout the country children walks in parades led by marching bands while waving Norwegian flags, singing traditional songs and screaming "Hipp hurra" to their proud parents, neighbours and friends as they pass them on different locations in the city.
The longest parade is in Oslo, where around 100,000 participate in the main festivities. The city is decorated with Norwegian flags, flowers and gas balloons, and people are dressed in their colorful Bunads, our national costume. Graduating high school students, "Russ", wear trashy uniforms, mainly in red or blue, and celebrate the approaching school year's end. In the capital, the parade is greeted by the royal family who are waving tirelessly to the crowds from the Royal Palace balcony. This is broadcast on TV every year, with comments on costumes, banners and general atmosphere, together with local reports from celebrations around the country.
At the local schools they arrange a lot of different games for the kids and the children mainly survive on ice cream, hot dogs, waffles and cotton candy this day.
The grown ups, who doesn't have kids, usually gather for a May 17th breakfast in the early morning. This is often a potluck-style gathering with friends, consisting of freshly baked bread, scrambled eggs, smoked salmon and champagne. Lots of champagne!!
May 17th celebrations in Los Angeles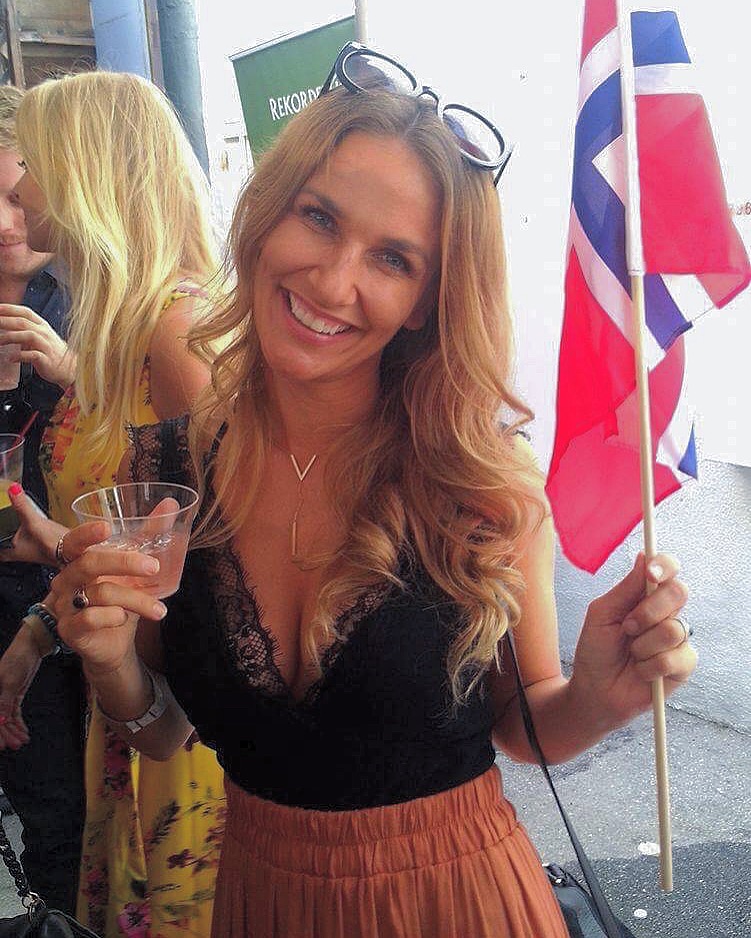 The last five years I've lived in Los Angeles and together with a big group of Norwegians, Scandis and Europeeans we always make sure to celebrate May 17th with a big party - or three (se pictures in carousel above).
The day starts around 8 am. preparing a dish for the potluck-style breakfast, and by 10 we're all dressed up, with a glass champagne in our beautiful Norwegian hands, cheering for Norway - and praying they're blessed with the same nice warm weather we always have in LA (#Asshole).
Usually, next stop is the Moods of Norway store on Melrose Ave (a Norwegian designer brand). For almost ten years the amazing trio, Stefan Dahlkvist, Simen Staalnacke and Peder Børresen, have been hosting the most fun May 17th parties in their awesome store. Super host Stefan, who's been running the LA store for years, sure knows how to throw a crazy party; with lots of surprises, drinks, dancing, music and magical waffles. A few Norwegian and international celebrities always pop by to sing or drink along too, and since I'm a super duper phenomenal journalist - sometimes I write about that - in Norwegian though...
Later on, at May 17th, my dear friend and talented event manager, Talita, and her boyfriend, Louis, have been arranging afterparties in different cool bars in Hollywood. They also always have surprises like burlesque dancers, photo booths, aaaaaand towers built of champagne glasses to celebrate MY BIRTHDAY that starts just over midnight - May 18th!! They really know how to make someone feel special <3
This year though was a little bit different as Moods of Norway sadly has closed down and Talita and Louis were too busy to think about the rest of us! WTF?! ;) BUT we managed to have fun anyway!! A lot of fun!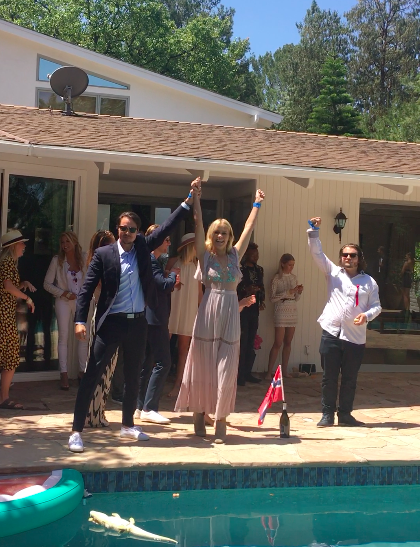 This May 17th we celebrated in Sherman Oaks in Andreas beautiful home. It was probably 30 people or more for breakfast, and the atmosphere was fantastic. We started early morning by mingeling, eating and cheering in bubbles. And then the potato race (a common May 17th game for the kids in Norway) began. We were divided into teams and got a spoon with a potato placed in our hands and had to run from A to B, down a shot of the famous Norwegian spirit, Aquavit, and run back again and hand the spoon over to our team mates. The winning team each round stood their ground and met a new team. Meaning the more you won, the drunker you got. And I love to win. Just sayin'. Potatoes were flying everywhere. Thanks to Bjørn Alex!!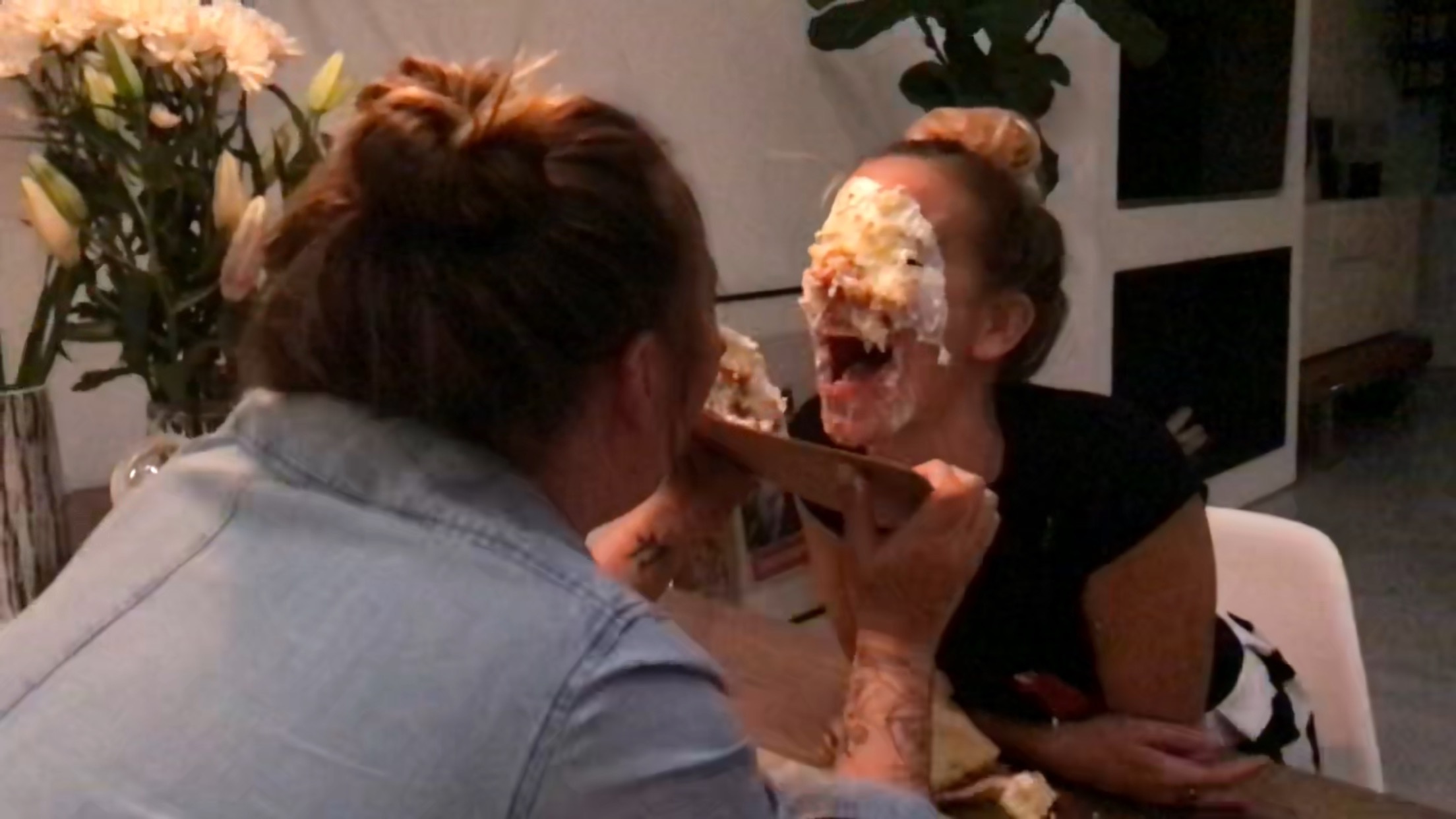 In the afternoon we went to a mimosa brunch at our friend Dana's house. Dana is American and married to a Norwegian. He doesn't celebrate May 17th (WHY?), but Dana does!! We were now just nine girls, but had so much fun that we forgot all about going out meeting up with the rest of the Norwegians. We danced our asses off, got dressed up in Dana's amazing and BIG collection of vintage-clothes, jumped in the jacuzzi - and they surprised me with a cake and "beautiful" birthday songs. The night ended with me getting cake smeared all over my young face (video below) - the perfect way to end May 17th and start my birthday.
Hip hip hurrah for ME - and Norway!!